Use of stainless steel crowns in the permanent dentition of paediatric dental patients: A guide for GDPs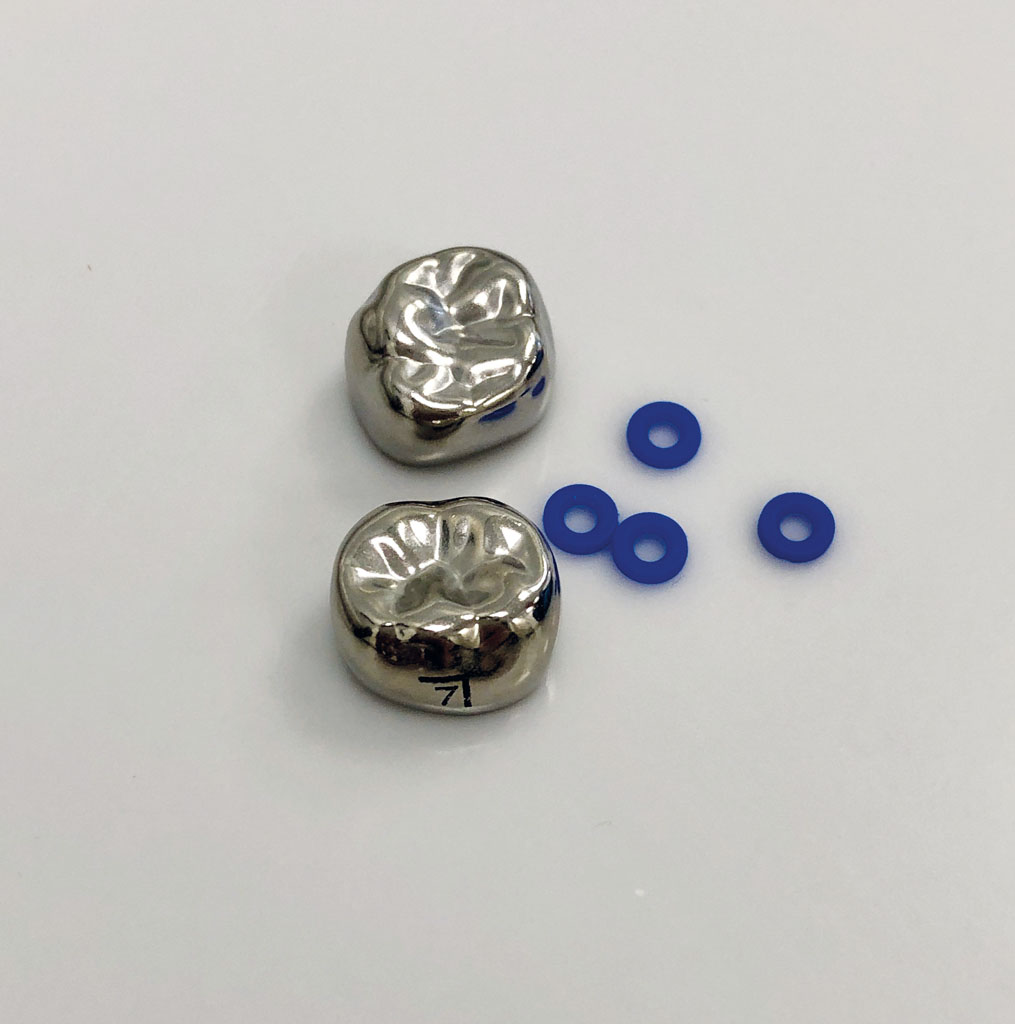 Scott J F Wright, Dental Core Trainee, Glasgow Dental Hospital & School
ABSTRACT: The use of preformed metal crowns (PMCs) or stainless steel crowns (SSCs) within paediatric dentistry is widely accepted. Predominantly, this is for the treatment of carious primary molars. This article aims to increase readers' awareness of the use of PMCs for permanent molars in a paediatric population.
Introduction and background
The majority of treatment of paediatric patients in the UK is carried out by general dental practitioners. It is therefore crucial that GDPs are aware of treatment options for these patients.
Preformed metal crowns (PMCs) were first described by Engel in the 1950s1. Primarily, their use has been for the restoration of primary molars that have caries or structural defects. There is a large and growing body of evidence to suggest that primary teeth restored with PMCs are less likely to develop problems or cause pain in the long term than those primary teeth restored with conventional restorations.2 Teeth that were restored using the Hall Technique were also shown to give less discomfort at the time of placement than conventional restorations.2 There is wide acceptance of this technique to restore primary molars in both the United States and United Kingdom.3, 4
There is less evidence and information surrounding the use of PMCs for permanent molars , but they can be a useful addition to the armamentarium of any dentist treating paediatric patients. Permanent molars of poor prognosis can interfere with eating, sleeping, attending school, and taking part in daily activities. 8, 9, 10 Children can experience pain and infection, as well as a reduction in their overall quality of life.9, 10 Additionally, retention of permanent molars of poor long-term prognosis can be beneficial orthodontically. RCS England guidelines suggest that the ideal time for extraction of first permanent molars is between eight and 10 years old.13 PMCs can be helpful in assisting with this and prolong the retention of molars that would otherwise be lost.
Dean et. al6 found that about 48 per cent of Scottish GDPs assessed in their study were already using PMCs with the Hall Technique for the management of caries in primary molars. Anecdotally, however, there is limited knowledge of GDPs surrounding the use of PMCs in the permanent dentition.
As mentioned above, there is a comparative limited body of evidence to support use of SSCs in permanent molars to that of primary molars. In 2016, a study in the US suggested that use of permanent tooth SSCs as an interim restoration resulted in an 88 per cent success rate, with an average lifespan of 45.18 months in all age groups. This result was statistically significant in the under-nine age group (P=0.001). However, this was a small sample size.
PMCs are valuable in the interim management poor prognosis permanent molars. This article aims to give GDPs an introduction to the use of PMCs in the permanent dentition for paediatric patients. Many of the principles and skills used in restoration of primary molars with PMCs can be applied to permanent teeth.
Indications for use of PMCs in permanent molars
There are many clinical circumstances in which PMCs for permanent molars can be a useful treatment choice. Paediatric patients can present with difficult clinical scenarios that require operative intervention due to caries or structural defects in these teeth. This can be further complicated by social factors including parental or guardian wishes, child anxiety and medical history.
Multi-surface caries in permanent molars where use of composite or amalgam is contra-indicated
Pre-co-operative or anxious child precludes conventional restoration
Structural defects such as molar-incisor hypomineralisation, amelogenesis imperfecta, dentinogenesis imperfecta
Temporary restoration until definitive treatment accepted such as extraction for orthodontic purposes.
Of benefit is the limitation to caries progression and reduction in symptoms that can be achieved through use of PMCs.
Contraindications for use of PMCs in permanent molars
There are relatively few contraindications to the above.However, below are some aspects that require consideration.
Nickel allergy – stainless steel crowns is in fact a misnomer as PMCs are constructed with nickel chromium
Insufficient tooth structure to retain crown
Signs or symptoms of irreversible pulpitis
Peri-apical pathology.
Technique for placement of PMCs in permanent molars 2, 11, 12
The technique for placement of PMCs in permanent molars is very much dependent on compliance of the child patient. Many previous articles advocate the use of conventional preparations however, the use of a modified 'Hall Technique' approach can also be used.
Pre-treatment preparation
Explain the treatment to patient and guardian, obtaining informed consent.
Place orthodontic separators, using two lengths of floss, three to five days before the scheduled appointment for fit of PMC
Rehearse procedure with patient and guardian.
Treatment appointment – Placement
Gauge initial size of PMC required by measuring mesio-distal distance of tooth and choosing the most appropriately sized crown
Conduct minimal preparation including slight mesial-distal and minor occlusal reduction if appropriate or clinically possible,
not required in all instances
Remove caries with excavator or handpiece if appropriate or clinically possible, not required in all instances
Adjust height of crown using crown scissors, the PMC should extend just to the ACJ of the tooth where possible, and slightly subgingivally (Figures 1a, 1b, 1c)
Smooth rough edges with a polishing stone or disc
Adjust margins of PMC with crimping or other orthodontic pliers to ensure a secure fit of the PMC cervically around the tooth (Figure 2)
Practice seating of PMC with child after showing them the crown
Sit the patient upright and protect the airway with gauze
Isolate the tooth being treated appropriately to minimise moisture contamination
Fill the adjusted PMC with resin-modified glass ionomer cement and seat firmly with thumb pressure, placing a cotton-wool roll occlusally
Ensure the PMC is in the correct position and encourage the child to bite firmly onto the cotton wool roll, continually assessing the position of the PMC. Gamification in the form of asking the patient to play 'tug of war' or 'biting down like a tiger' can be helpful at this time while you 'attempt to remove' the cotton-wool roll.
Treatment appointment – Post-placement
Remove excess cement with probe, excavator and knotted floss interproximally.
Check final position, occlusion and gingival condition, gingival blanching is normal
Give post-operative instructions, positive reinforcement and reward with a sticker.
Post-operative instructions
Post-operative instructions can be given that are very similar to those given when placing PMCs on primary teeth. Advise parents and children that occlusion will be slightly high but will settle within three to five days. Analgesia may be required, and paracetamol and ibuprofen, if not contraindicated, would be appropriate. Asking parents to reinforce positive messages between appointments is of benefit to developing co-operation, particularly if multiple PMCs are being placed.




Figure 1a Use of crown scissors to adjust the height of PMC






Figure 1b Further adjustment
of height of PMC






Figure 1c PMC, adjusted for height, with excess material that
should be disposed of in Sharps waste. Margins should then be adjusted.




Figure 2 Crimping of PMC margins following adjustment of height

Permanent Tooth PMCs
and Orthodontic Separators

Complications and troubleshooting
Complications can occur with all treatment and therefore it is key to ensure that after placement, PMCs are monitored clinically and radiographically to assess for signs of success and failure.
During placement, if the crown is deemed to be in the wrong position, it may be possible to remove it with an excavator before the cement sets. If this is not possible, removal can be performed by cutting a slot bucco-lingually across the occlusal surface of the crown, and extending this down the buccal aspect. The crown can then be peeled away using
an excavator.
Adapting the margins of PMCs on permanent molars is crucial. Failure to do so may result in secondary caries, periodontal disease or impaction of unerupted teeth.5, 11 The margins should sit tightly around the neck of the tooth to reduce the aggregation of plaque leading to the development of carious lesions or periodontal disease. Assessment clinically using a sharp probe, floss and bitewing radiographs should be conducted to determine success.
Conclusion
To conclude, the use of PMCs in paediatric patients should not simply be limited to primary teeth. PMC placement in permanent molars for a paediatric population should be part of the skillset of all GDPs in order to best manage clinical scenarios without the need for referral to specialist services. Development of this aspect of paediatric dentistry can only come with education and practice; the authors hope that this article can assist with this.
Scott J F Wright
The author wishes to express grateful thanks to Mrs Christine Park, Honorary Consultant in Paediatric Dentistry, Glasgow Dental Hospital & School, University of Glasgow.
References
Engel RJ. Chrome steel as used in children's dentistry. Chron Omaha Dist Dent Soc. 1950;13:255-258.
Innes NPT, Ricketts D, Chong LY, Keightley AJ, Lamont T, Santamaria RM. Preformed crowns for decayed primary molar teeth. Cochrane Database of Systematic Reviews 2015, Issue 12. Art. No.: CD005512. DOI: 10.1002/14651858.CD005512.pub3.
American Academy of Pediatric Dentistry. Guideline on Restorative Dentistry. Clinical Guidelines Reference Manual 2014; 36(6): 230−241.
Kindelan SA, Day P, Nichol R, Willmott N, Fayle SA (2008), UK National Clinical Guidelines in Paediatric Dentistry: stainless steel preformed crowns for primary molars. International Journal of Paediatric Dentistry, 18: 20-28. doi:10.1111/j.1365-263X.2008.00935.x
Discepelo K, Sultan M. (2016) Investigation of adult stainless steel crown longevity as an interim restoration in pediatric patients. International Journal of Paediatric Dentistry 2017; 27: 247–254. https://doi.org/10.1111/ipd.12255
Dean, A.A., Bark, J.E., Sherriff, A. et al. Eur Arch Paediatr Dent (2011) 12: 159. https://doi.org/10.1007/BF03262798
Taylor GD, Pearce KF, Vernazza CR.Management of compromised first permanent molars in children: Cross-Sectional analysis of attitudes of UK general dental practitioners and specialists in paediatric dentistry. Int J Paediatr Dent. 2019;00:1 14. https://doi.org/10.1111/ipd.12469
Taylor GD, Scott T, Vernazza CR. Research Prize Category: impact of first permanent molars of poor prognosis: patient & parent perspectives. Int J Pediatr Dent.2018;28(S1): 2-3.
Sheiham A.Oral health, general health and quality of life. Bull World Health Organ. 2005;83(9):641-720.
Shaikh S, Siddiqui A, Aljanakh M.School absenteeism due to toothache among secondary school students aged 16-18 years in the Ha'il Region of Saudi Arabia. Pain Res Treat. 2016;2016:7058390.
Randall, R.C., 2002. Preformed metal crowns for primary and permanent molar teeth: review of the literature. Pediatric Dentistry, 24(5), pp.489-500.
A comprehensive guide to achieving the best results with Prefabricated Crowns, 3M ESPE
A Guideline for the Extraction of First Permanent Molars in Children by M.Cobourne, A.Williams & M.Harrison (update of the 2004 guideline by M.Cobourne, A.Williams & R.McMullan, previously updated in 2009)
Evans D, Innes, NPT. The Hall Technique, Users Guide. A minimal intervention, child centred approach to managing the carious primary molar