Misaligned … who's smiling now?
Inside the bitter battle between an industry incumbent and a controversial challenger
On a warm day in July 2016 in the heart of Silicon Valley, where Align Technology has its US west coast headquarters, the self-proclaimed "leader in modern clear aligner orthodontics" made an announcement which caused eyebrows to be raised.
Align said it had entered into an agreement with SmileDirectClub (SDC) to manufacture 'non-Invisalign' clear aligners for SDC's "[dentist]-directed, at-home programme for affordable, cosmetic teeth straightening" and had agreed to be its exclusive third-party provider of transparent retainers. In addition, over the next year Align would invest $59.5 million in SDC – taking a 19 per cent stake in the industry challenger.
All this from a company which only the previous autumn had filed a lawsuit against SDC for "patent infringement, false advertising, and unfair competition". It had also criticised the Nashville-based start-up's 'do-it-yourself orthodontics' model.
SmileDirectClub was a company built on a lie
"[Dentists] play a necessary and integral role in any orthodontic treatment process, starting with a diagnosis and treatment prescription based on an in-person examination of the patient," said Roger E. George, Align's Vice-President. "This critical role continues with in-person consultations throughout treatment as the [dentist] monitors the patient's dental health and treatment progress."
He added: "The SmileCareClub [as SDC was known at the time] do-it-at-home system lacks this critical oversight and eliminates the [dentist's] role in treatment. It instead replaces the [dentist] with an unknown email address and no actual patient contact, thus impairing the ability to accurately diagnose and care for the patient during treatment."
But that was then. Perhaps what had transpired in the months following the lawsuit was that a decision was taken by senior management at Align to: "Keep your friends close; keep your enemies closer."
SmileDirectClub was founded in 2014 by childhood friends, Alex Fenkell and Jordan Katzman. The pair had dabbled in various online ventures before coming up with the idea of a new approach to aligners, prompted by their shared experience of wearing braces as teenagers. They took their lead from Crest Whitestrips which, in 1997, kickstarted the at-home teeth whitening industry.
Whitestrips began life as a strip of translucent food wrap coated in a peroxide whitening solution. It was the brainchild of an engineer at Proctor & Gamble who had thought there must be a better way of achieving a bright smile than the method current at the time; a lengthy and expensive procedure involving steeping your teeth nightly in carbamide peroxide contained in a custom-fitted tray.
SDC outlined its treatment model in a filing to the US Securities and Exchange Commission prior to going public in 2019: "Our member journey starts with two convenient options: a member books an appointment to take a free, in-person 3D oral image at any of our over 300 SmileShops across the US, Puerto Rico, Canada, Australia, and the UK, or orders an easy-to-use [dentist] prescribed impression kit online, which we mail directly to their door.
"Using the image or impression, we create a draft custom treatment plan that demonstrates how the member's teeth will move during treatment. Next, via SmileCheck, a state licensed [dentist] within our network reviews and approves the member's clinical information and treatment plan.
"If the member is a good candidate for clear aligners, the treating [dentist] then prescribes custom-made clear aligners, the member has the opportunity to review a 3D rendering of how their teeth will move over time and, if the member decides to purchase, we then manufacture and ship the aligners directly to the member.
"SmileCheck is also used by the treating [dentist] to monitor the member's progress and enables seamless communication with the member over the course of treatment. Upon completion of treatment, a majority of our members purchase retainers every six months to prevent their teeth from relapsing to their original position. We also offer a growing suite of ancillary oral care products, such as whitening kits, to maintain a perfect smile."
Over the next few years, SDC grew to be one of the largest of the new direct-to-consumer online health companies. Fuelled by $440 million in funding from venture capital and private equity investors, the company spent heavily on television and social media ads, promising to give people "a smile they love."
It launched in the UK in 2016 at 16 locations, including Glasgow and Edinburgh. It said it had invested $380 million in its UK operations and planned to employ more than 300 people, including dentists, orthodontists and dental nurses. According to a press release companying the launch, the company had "pioneered a unique teledentistry platform to connect customers with an affiliated network of UK-based registered dentists or orthodontists who direct all aspects of clinical care using SmileDirectClub's platform."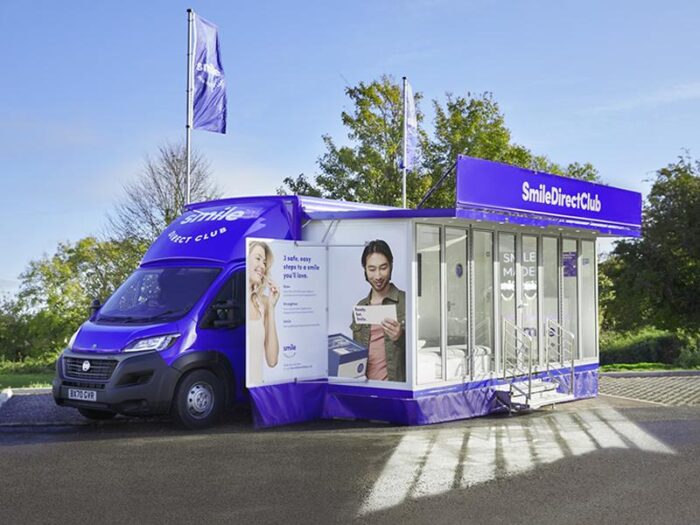 In September of 2019, the company was floated on the Nasdaq stock exchange at a value of $6.4bn, making its founders – and Katzman's father David, who is SDC's Chief Executive – billionaires on paper. In a move to realise some of that that paper wealth, the founders then liquidated shares to a combined value of nearly $500 million.
But in the wake of the UK launch, the British Orthodontic Society (BOS) warned that dental professionals could be referred to their governing bodies if they undertook work for direct-to-consumer orthodontic companies. The BOS said it would be informing the General Dental Council, the Care Quality Commission, which is responsible for inspecting dental practices in England, and the Advertising Standards Authority of its concerns.
Meanwhile, in the US, the American Association of Orthodontists lodged complaints about SmileDirectClub with dental boards and regulatory authorities in 36 US states. The American Dental Association also filed complaints with the Federal Trade Commission and Food and Drug Administration.
By then the relationship between Align and SDC had begun to sour.
In 2017, Align had opened a series of Invisalign stores as part of a pilot programme, in effect competing with SDC. In 2018, SDC alleged that Align had breached a non-compete clause in their original agreement. The two companies sought legal arbitration and, in a ruling the following year, Align was compelled to close its stores and sell its interest in SDC. But then in 2020, Align filed an arbitration demand against SDC, alleging that the company had breached a supply agreement. SDC filed counterclaims.
In a lawsuit filed by Align at the Northern District Court of California, the company said that SDC was "a company built on a lie. From day one, SDC advertised its aligners and 'services' with false and fraudulent claims, telling consumers that SDC patients get real medical care from SDC-affiliated dentists and orthodontists. The other defendants—investors and principals of SDC—have engaged in a scheme to perpetuate these false advertisements (which amount to a pattern and practice of wire fraud and mail fraud)."
The lawsuit alleged that: "Many SDC patients have attempted to talk to their so-called treating [dentists] (to no avail), and some have tried to visit their assigned [dentist] only for that [dentist] to "den[y] the [person] ever existed as a patient. SDC patients have had to consult real [dentists] to fix the damage SDC aligners have caused. Many of these consulted [dentists] have been appalled at SDC's (lack of) care, commenting that certain patients would not have been approved for SDC treatment if a doctor actually examined the teeth.
"SDC's fraudulent advertising related to [dentist]-managed care causes real harm to real people. Unaware of the false and misleading nature of SDC's claims, consumers are unwittingly tricked into purchasing SDC's aligners on the (erroneous) premise that they will receive true [dentist]-supervised care (as they would get with Align's Invisalign system). This deception has devastated some consumers, who have suffered permanent bone loss, broken and lost teeth, and misaligned bites that have required expensive and painful treatment to fix, if they can be fixed at all."
In May this year, an arbitrator awarded Align $63 million in damages – a ruling which was later confirmed by a California trial court. SDC appealed and is awaiting a decision. In June, The New York Times reported that SDC had agreed to release 17,000 customers, who had asked for refunds, from nondisclosure agreements that had prohibited them from speaking about their experiences and had forced them to delete comments they had made on social media. On 29 September, SDC filed for bankruptcy.
Who's smiling now?